Healthy Chelsea / Chelsea Hunger Network Micro Pantry Project: Community assisting Community
Given the consistent rise in demand for emergency food, Healthy Chelsea / Chelsea Hunger Network studied optional resources beyond the Chelsea's pantries.  We determined that the creation of Micro Pantries that function like Little Free Libraries, dispersed in high-need neighborhoods would provide 24/7 assistance with shelf-stable food and personal hygiene items.  A pilot program at Temple Emmanuel was launched at the end of 2021.  Six more were added throughout 2022, in partnership with the Chelsea Department of Public Works.  Each micro pantry has a host that is responsible for its maintenance.
The Chelsea Micro Pantry Hosts:
Healthy Chelsea / Chelsea Hunger Network Food Assistance
in March of 2020, The Healthy Chelsea / Chelsea Hunger Network became the platform for the City's Pandemic Food Response Team.  Meeting daily in the initial months of the pandemic, over 20 community organizations and residents convened daily to organize to coordinate logistics, problem solve and brainstorm solutions to maximize food access for all Chelsea residents. Participants include emergency food providers, direct and indirect service providers, community organizations, school personnel, and residents.
When systems were in place, the meeting moved to 3 times per week and eventually weekly until the present.
The partners:
CAPIC & CAPIC Head Start
Chelsea Community Connections
Chelsea Congregational Church
Greater Boston Food Bank
GreenRoots
Healthy Chelsea
La Colaborativa
MGH Food for Families
Revival International Center
The Salvation Army
Luke's Episcopal Church
The Neighborhood Developers
Chelsea Revere WIC
SELAH Resource Center
Temple Emmanuel
Residents
Addressing Food Insecurity and Access to Healthy Food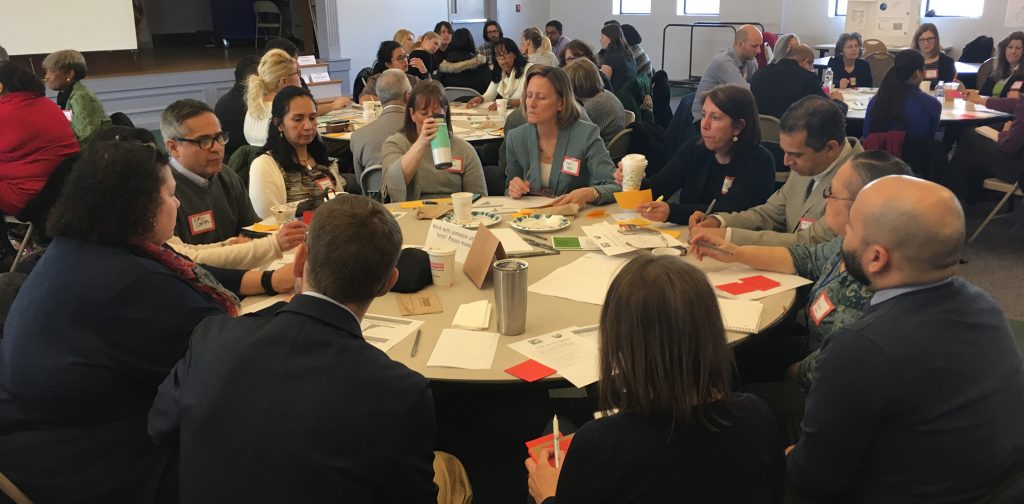 In March 2018, Healthy Chelsea and the Chelsea Hunger Network organized the Chelsea Healthy and Affordable Food (CHAF) Summit, inviting community leaders and institutions from within and outside of the city to address food insecurity and access to healthy food in Chelsea. The half day event brought together 70 people to learn about the city's socio-economic and food relief situation, interact with a panel presenting diverse options, participate in round-table discussions to delve into causes and possible solutions and to network. This summit represents the first step in bringing about sustainable change to these issues. Subcommittees are now being formed to work on creating new resources, partnerships and solutions.
Working with Local Business
Healthy Chelsea staff worked with local corner store owners, through the "corner store project," providing guidance and display items such as baskets and refrigerators, so that fresh fruits and vegetables are more appealingly displayed at the front of the stores, thereby increasing healthier purchases.
Healthy Chelsea, through our membership, helps to promote local farmers' markets and incentives for WIC recipients.
Instituting a Trans Fat Ban
Chelsea instituted a 100% trans-fat ban in 2013. We were the first city in the country to institute this most progressive trans-fat ban. All other cities that had implemented a ban had allowed for trace amounts of artificial trans-fat in food, but Chelsea prohibited it completely.
We also worked with restaurant chains such as McDonalds, Burger King and Dunkin' Donuts to ensure their adherence to the ban.