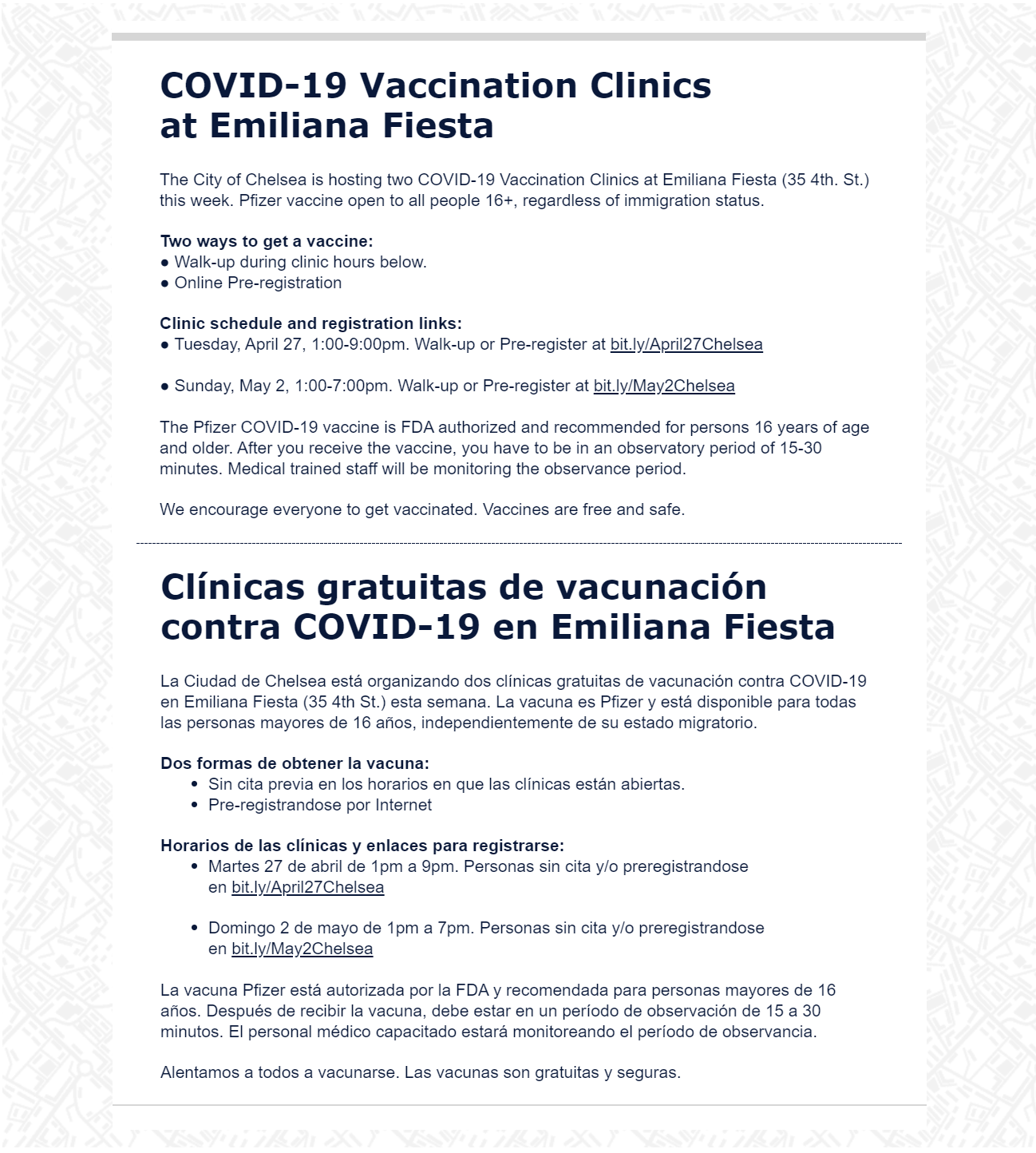 The City of Chelsea is hosting two COVID-19 Vaccination Clinics at Emiliana Fiesta (35 4th. St.) this week. Pfizer vaccine open to all people 16+, regardless of immigration status.  Two ways to get a vaccine:
Walk-up during clinic hours below.
Online Pre-registration
Clinic schedule and registration links:
The Pfizer COVID-19 vaccine is FDA authorized and recommended for persons 16 years of age and older. After you receive the vaccine, you have to be in an observatory period of 15-30 minutes. Medical trained staff will be monitoring the observance period. Learn more about the Covid-19 vaccine at https://www.mass.gov/info-details/covid-19-vaccine-frequently-asked-ques… We encourage everyone to get vaccinated. Vaccines are free and safe. ——————————- La Ciudad de Chelsea está organizando dos clínicas gratuitas de vacunación contra COVID-19 en Emiliana Fiesta (35 4th St.) esta semana. La vacuna es Pfizer y está disponible para todas las personas mayores de 16 años, independientemente de su estado migratorio. Dos formas de obtener la vacuna:
Sin cita previa en los horarios en que las clínicas están abiertas.
Pre-registrandose por Internet
Horarios de las clínicas y enlaces para registrarse:
La vacuna Pfizer está autorizada por la FDA y recomendada para personas mayores de 16 años. Después de recibir la vacuna, debe estar en un período de observación de 15 a 30 minutos. El personal médico capacitado estará monitoreando el período de observancia. Obtenga más información sobre la vacuna Covid-19 en https://www.mass.gov/info-details/covid-19-vaccine-frequently-asked-questions Las vacunas son gratuitas y seguras.