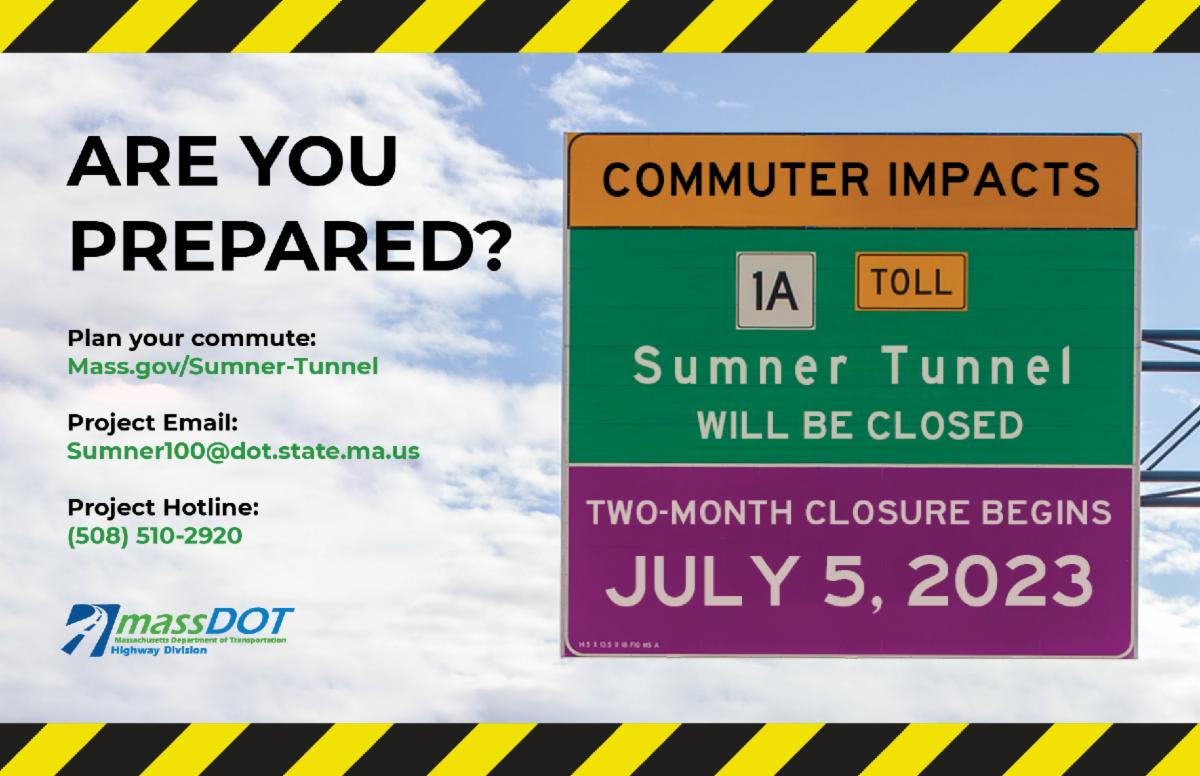 The Sumner Tunnel will be closed seven days a week from
July 5 to August 31.
Starting this Wednesday, July 5, the five bus routes in Chelsea (111/112/114/116/117) will be free for both inbound/outbound trips during the closure. The SL3 and the Blue Line will also be fare-free for riders.
The mitigation plan also includes the following:
-The entire Newburyport/Rockport Commuter Rail line was reduced to
Zone 1A fare/$2.40 during the full closure.
-Discounted tolls for those registered in the Resident Discount Program will be provided for the Tobin Bridge and Ted Williams Tunnel.
Travelers can also use MassDOT 511 to help review traffic conditions at 
mass511.com
Traffic Advisory: The City of Chelsea and the Chelsea Police Department announced the following road closures and detours that will be in effect starting on Wednesday, July 5:
Drivers can use the following routes while traveling in Chelsea to go South:
Detour to Route 99: Williams St to Route 99 (By the Encore Casino)
Detour to Route 1S/I-93: William St to Arlington St to Everett Ave EXT. to 93 South (Tobin Bridge)
Detour to Route 16 E-W: Marginal St to Eastern Ave to Route 16 West Ramp to Route 1 South (Tobin Bridge)
El Túnel Sumner estará cerrado los siete días de la semana desde
el 5 de julio hasta el 31 de agosto.
A partir de este miércoles 5 de julio, y durante el cierre, las cinco rutas de autobús en Chelsea (111/112/114/116/117) serán gratuitas tanto para viajes entrantes como salientes. El autobús SL3 y la Línea Azul también serán gratuitos.
El plan de mitigación también incluye lo siguiente:
-Toda la línea de trenes de cercanías de Newburyport/Rockport se redujo a la tarifa de la Zona 1A/$2.40 durante el cierre total.
-Se proporcionarán peajes con descuento para los registrados en el Programa de descuento para residentes para el puente Tobin y el túnel Ted Williams.
Los viajeros también pueden usar MassDOT 511 para ayudar a revisar las condiciones del tráfico en 
mass511.com
Aviso de Tráfico: La Ciudad de Chelsea y el Departamento de Policía de Chelsea anunciaron los siguientes cierres de carreteras y desvíos que entrarán en vigencia a partir del miércoles 5 de julio:
Los conductores pueden usar las siguientes rutas mientras viajan en Chelsea para ir al sur:
Desvío a la Ruta 99: Williams St hacia la Ruta 99 (por Encore Casino)
Desvío a la Ruta 1S/I-93: William St a Arlington St, a la Salida de Everett Ave hacia 93 Sur (Tobin Bridge)
Desvío a la Ruta 16 E-W: Marginal St a Eastern Ave, hacia la Rampa de la Ruta 16 Oeste, hacia la Ruta 1 Sur (Tobin Bridge)