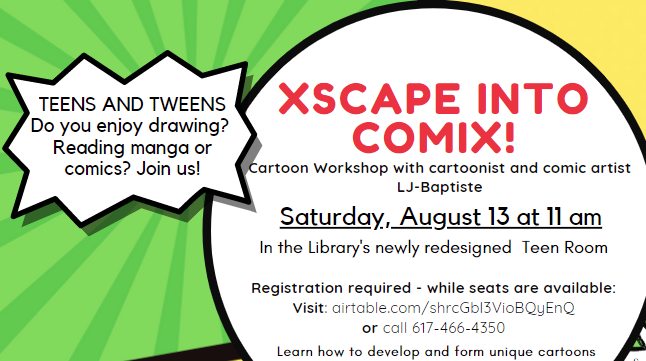 Join cartoonist and comic artist LJ- Baptiste and learn how to develop and form unique cartoons that have their own personalities, style, and stories as LJ breaks down key techniques for making them your own.
About LJ-Baptiste:
LJ-Baptiste is an art educator and cartoonist from Boston. He has collaborated with media giants such as Google, Hasbro, and PBS to produce essential works of art. He is best known for his ongoing comic book series, COMIXSCAPE, which features the adventures of a bright-eyed, perpetually preteen boy and his raccoon sidekick. Whether it's work in animation, graphic apparel designs, or COMIXSCAPE, LJ's art can be described as distinctive, masterful, and captivating. When it comes to visual communication, LJ prioritizes authenticity, details, and positive messages.
-This program is supported by federal funding provided by the Institute of Museum and Library Services and administered by the Mass. Board of Library Commissioners.