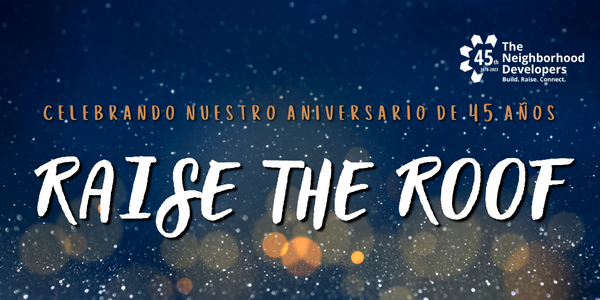 You're invited to this year's Raise the Roof event! Join us in celebrating The Neighborhood Developers' Sapphire Anniversary with a fun evening of networking, entertainment, and great food on Chelsea's waterfront. We're proud to mark 45 years of Building Homes, Raising Voices, and Connecting Residents to Resources. Raise the Roof proceeds fund this important work.
_____________________________________________________________________
¡Nos complace invitarle a nuestro sexto evento anual Raise the Roof! Únase a nosotros para celebrar nuestro Aniversario Zafiro con una noche divertida de 'networking', música en vivo y excelente comida. Estamos orgullosos de tener 45 años de Construir viviendas, Alzar voces y Conectar a los residentes con recursos vitales. Las ganancias de Raise the Roof financian este importante trabajo
.