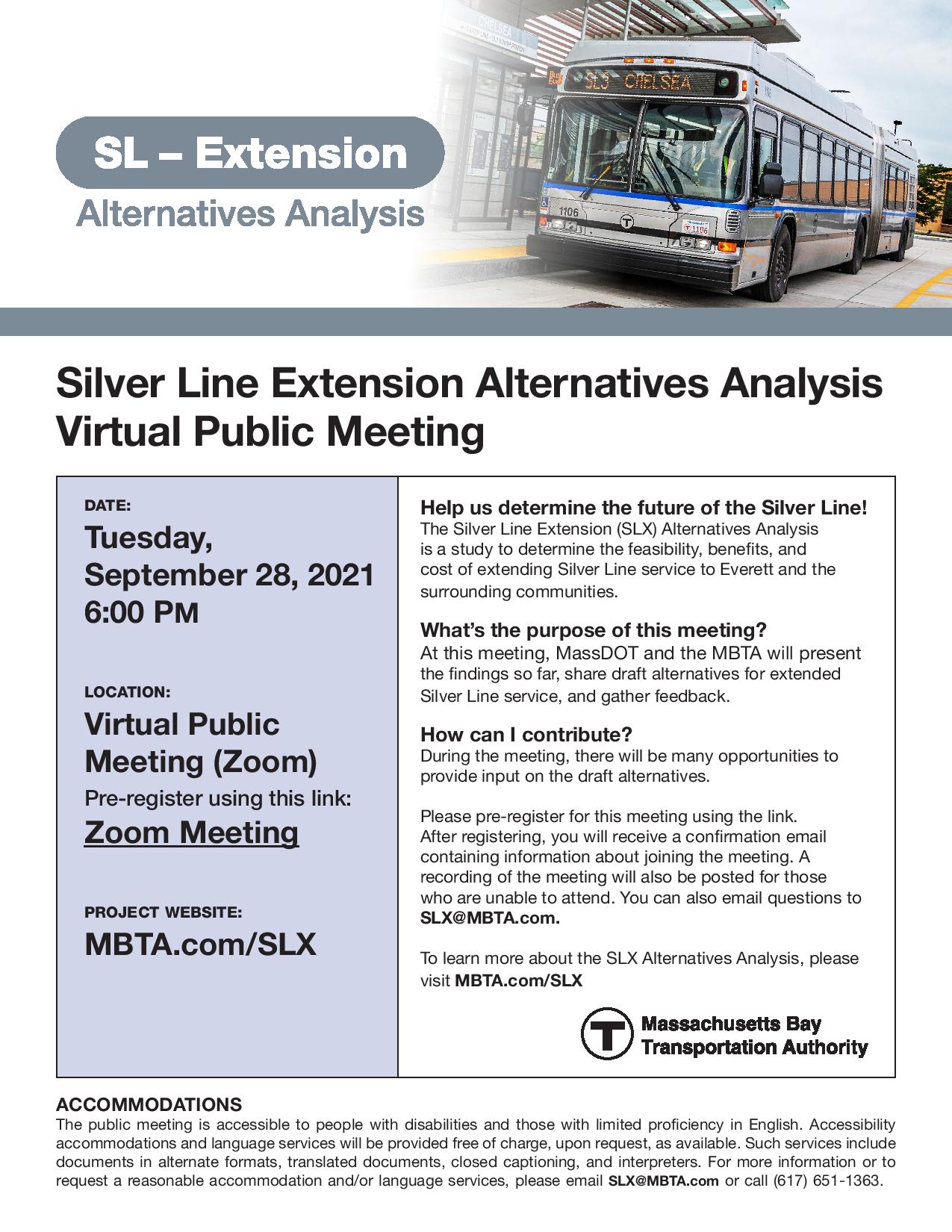 Silver Line Extension Alternatives Analysis
Virtual Public Meeting on September 28
Join us for a virtual public meeting on Tuesday, September 28 from 6:00 PM – 7:30 PM for the Silver Line Extension Alternatives Analysis. This study will determine the feasibility, benefits, and cost of extending Silver Line service to Everett and the surrounding communities.
What will I learn at the meeting and how can I contribute?
At this meeting, we will present an overview of the results of the analysis done so far, and potential Silver Line extension alternatives to further evaluate.
Staff will be looking for your feedback on draft alternatives connecting Chelsea with Everett, Somerville, Cambridge, and/or downtown Boston.
Following a presentation, the team will be available to take feedback and answer questions. You can view meeting flyers in English, Spanish (Español), Portuguese (Português), and Haitian Creole (Kreyòl Ayisyen) on the event webpage.
The meeting will be held online, via Zoom. To pre-register, please click this link: https://us02web.zoom.us/meeting/register/tZcsfuirqjooGtYGo_XDcc5faj35kNOqmu9a.
After registering, you will receive a confirmation email containing information about joining the meeting. Upon joining you will be prompted to share your first name, last name, and email address.
Meeting attendees will be entered into the project's email database to receive updates. The meeting will be recorded and posted online for those who cannot attend. You can also email questions anytime to slx@mbta.com.
Online Feedback Form Closes September 21
An online feedback form is available in English, Spanish (Español), and Portuguese (Português). This survey focuses on transit use, desired connections, and rider demographics and will be open until Tuesday, September 21. Feedback gathered through this survey will help inform decisions about extending Silver Line service.